If you would like to swap buttons, email me your URL plus a JPG the size 150x150px and I'll display it in my sidebar, as long as you agree to do the same for me. Also let me know if you need my button in another size than the ones I have available.
I reserve the right to refuse to link to any blogs, websites or content that I do not think are appropriate (especially if they are in any way sexist, homophobic, extremist, racist, or abusive, to name a few). Please accept that this is my own personal space and the final decision of whom I would like to be associated with lies entirely with me.
And if you don't feel like swapping but still want to home one of my buttons, I'd sure love you big time!

200x50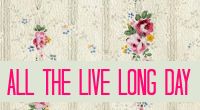 200x110
250x125
Thanks so much for your support!