Hey Swappers.
Remember, today is the last day to link up the blog posts that you would like to be shared in the Winter Warmer Recipe Swap round-up!
You can add your recipe swap posts by linking either here on my blog or over at Fiona's Corner Of The Internet...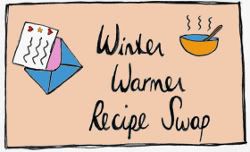 We'd love to include everybody's swap experience, so get linking!
Ta!

© Text & Photos - Annika - All The Live Long Day (unless otherwise stated).