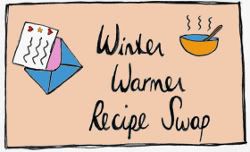 Hey Swapperoos!
How's it going? Have a lot of you received their recipes yet, or are you still waiting for the postman? Some of you might have to be a bit more patient than others, as this swap drew an international crowd and the intercontinental mail will take a little longer to reach its recipients. If you are still waiting by the end of this week, maybe let Fiona and me know, and we'll investigate.
Because I know she has received her recipe, I can now reveal that my swappy partner was
Jess
from
Peonyfish
. I sent her a recipe for Chicken & Artichoke Pilaf, which is one of my favourite quick dinners. I found it in a magazine and have been cooking it for over 5 years, tweaking it until it was perfect in my eyes. Jess wrote a lovely
post
after she received it. Her kind words made me feel all happy/embarrassed! Thank you, Jess!!!
Here is what the recipe looked like on paper:
I used patterned paper and a sticker maker for the letters and silhouettes, which I drew freehand on the back of the paper before cutting them out. I actually have
veg box
leeks in the fridge right now, so I think I will make this for Marco and me one evening this week.
I've also made my first ever linky thing for this swap, so if you have anything Winter Warmer related going on on your blog, you can link up below and let the world see. You could also link up anything that you have added to the
flickr group
. You will always be able to get to this post from the Winter Warmer Recipe Swap button in my sidebar. Links will show up here and on Fiona's
blog
and you can upload your posts
until 23 December
.
Extended until 31 January!
After that, we will showcase your creations in a big round-up for everyone to marvel at.
Happy cooking!

SEE OTHER POSTS ABOUT THE SWAP
© Text & Photos - Annika - All The Live Long Day (unless otherwise stated).