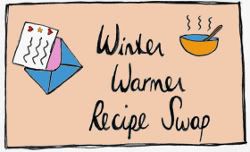 I got my swap recipe last week! It came all the way from Canada, from Jessi, who is one half of Sparrows & Arrows. I have been following Jessi's blog for a while, and she even guest-posted here in September, so I was very happy to be paired up with her!
Jessi sent me a recipe for sugar tarts that has been in her family for a long time and are a staple at Christmas. I loved the little lace trim on the recipe card, that was such a cute touch.
Aunt Vera was Jessi's great-grandfather's sister, in case you were wondering. I made her tarts on Sunday.
I could not find any frozen tart shells here in Britain, so I just bought some ready-rolled dessert pastry and cut out rounds with the scalloped side of a cookie cutter.
I placed them in a muffin tin and pricked them with a fork before I poured in the filling. In the end I had 12 tarts and a bit of leftover filling. Because I also had some pastry left, I made one big tart out of the remains.
Marco and I had the tarts for
Kaffee & Kuchen
and liked them a lot. They had formed a lovely sugary crust on top of the sweet gooey filling, which reminded me of crème
brûlée
. Marco said they tasted almost like the butter tarts he used to buy when he still lived in Vancouver. He got fairly excited!
Thank you, Jessi! I would call these tarts a definite success and they will be made again!

P.S.: Swappers! Don't forget to link up your recipe posts HERE or HERE! It would be lovely for everybody to see what you've been up to and Fiona and I will do a round-up some time after Christmas to showcase your creations.
© Text & Photos - Annika - All The Live Long Day (unless otherwise stated).