Yup! This is a bona-fide swap coming your way! And don't even think this was my idea! The ever brilliant Fiona from
The Corner Of The Internet I Call Home
(you may remember her from
here
or
here
) wrote me an email a little while ago, asking if I would like to partner up with her for an across-the-blogs recipe swap.
Would I just!
Fiona and I both like to cook & bake (Fiona has been posting the most amazing food recently). We both collect recipes, too.
I have been collecting them in a big notebook since I was about 13, and I still add new ones to the same tatty book now. My book contains scraps from magazines, handwritten recipes from my friends and family, and notes I jotted down while watching cookery shows. It is a tome that reflects my passion for food and is full of well-loved dishes and memories.
We know a lot of our readers have similar collections, so we hope you will be thrilled about the chance to take part in the WINTER WARMER RECIPE SWAP and add to yours!
It won't cost you much, it will not take a lot of time and everyone can take part, regardless of whether you blog or not. And yes, that means you!
Increase your recipe collection with a specially chosen and well trusted recipe from somebody else's kitchen.
HOW IT WILL WORK
You get given your swap partner's name and address (and secret knowledge about their possible food preferences). You then choose a recipe you know and love for them. That recipe could be for a savoury dish, a cake, appetizers, a salad, anything. Write it all up nicely and send it off for your partner to try their hands at.
You will of course also receive a carefully chosen recipe in return. You will ideally get all excited over your delicious mail and are going to want to introduce that recipe into your diet. So cook it, eat it, show the results on your blog. If you are not a blogger and still fancy taking part, please do! We would love to welcome everybody who loves food and needs some cooking inspiration.
The deadline for signing up is Friday, 18 November at midnight (GMT). We will be partnering everybody up that following weekend and you will have until Friday, 2 December to send your recipe to your swap buddy.
Leave a comment below if you are up for some kitchen magic and then email fiona.and.annika@gmail.com with the subject line WINTER WARMERS and your swap details as follows:
Name
Postal Address
Website (Can be a blog, flickr account, Facebook page…)
How do you collect your favourite recipes? (In a box, a book, a folder…)
Are you veggie or vegan?
Are there any foods you can't/won't eat?
Sorry, everybody has been partnered up and this swap is now closed to new entrants.
We have created a flickr group so you can upload photos of the recipes you receive and of your cooking results. If you post your photos by 23 December, we will ring in Christmas by including you in a big round up post on each of our blogs and letting everyone see what everyone else has been up to! Ding-dong!
And if you would like to spread some winter warming cheer, feel free to grab this lovely button that Fiona drew especially for the occasion: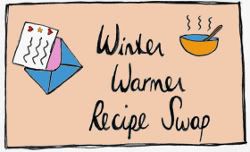 We are really excited about organizing our first swap! We are hoping that this will take off and that a lot of you will get involved! You'd make us two very happy bunnies indeed!
Much love,

© Text & Photos - Annika - All The Live Long Day (unless otherwise stated).