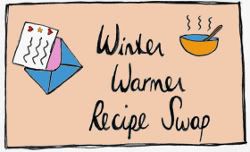 Today starts the countdown towards posting day for everybody's Winter Warmer Recipe Swap choices, which is on Friday. I must admit that I have been thinking a lot about recipes this last week, but have not yet made a decision on what to actually send. I just want the recipe to be something that my partner will hopefully enjoy! What about you other swappers? You all set?
Like I have mentioned before, I personally collect my recipes on whatever scraps of paper they come on and just paste them into my recipe book. But I know that a lot of you have proper recipe boxes with cards and indices and all. I did have a mosey around the internet to look at examples of recipes cards and came across a whole lot of lovely design-type people who are offering card templates for absolutely free. And seeing some of the designs kinda made me want to start my own box...
Here are my favourite finds. You can click on any image to be taken to the source. Make sure to leave a thank you in the designer's comments if you decide to print yourself a set!
I Heart Food from Scissors.Paper.Wok:
For more inspiration, you can go look at
Fiona's
and my
Recipe Cards Pinterest board
if you like. You could also upload photos of your own collection to the
Winter Warmers flickr group
if you feel like sharing with the other swappers! Or, if you have a link to another cool recipe card printable, leave it in the comments below!

© Text & Photos - Annika - All The Live Long Day (unless otherwise stated).